Seated Acupressure workshop – Salisbury – 26th October 2019
Seated Acupressure Massage – On-Site Massage Workshop
Salisbury: Saturday 26th & Sunday 27th October
10.00am to 5.00pm both days
Cost: £160.00
Seated Acupressure massage is a dynamic, energizing and revitalizing treatment based on the techniques of Shiatsu and Anma. It incorporates over 60 specific stress release points on the head, neck, shoulders, arms and back, to leave the client relaxed and calm yet invigorated and alert. It improves the flow of energy throughout the body and acts on the muscular, nervous and circulatory systems to relax tense muscles and increase blood circulation. The sequence has been developed to produce the maximum beneficial results for the client in just 20-25 minutes. Received fully clothed it can be given anywhere from the office to shopping centres, exhibitions and parties.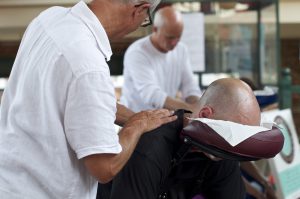 There is an optional assessment day which can be arranged 2 – 3 months after course to allow time for practice. There is a separate fee for the assessment (£50.00) payable to the assessor at the time of assessment.
For more information on this course please go to www.shiatsu.co.uk.
For all enquiries about this course or for a registration form please contact Andrew:
Email: [email protected]
Telephone: 07870 631412
Venue:
57 Winchester Street
Salisbury
Wiltshire