Shiatsu Basic Skills Workshop March 24th – Ealing and March 25th – Salisbury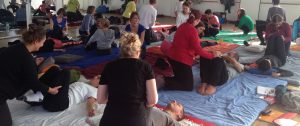 Introduction to Shiatsu – Basic Skills Workshop:
Saturday 24th March, 10.30 to 4.30 – Hanwell, London
Sunday 25th March 2018, 10.30 to 4.30. – Salisbury
£50 per person or £90 if 2 people book together
Our Introductory Shiatsu Workshops are a fantastic opportunity to learn Shiatsu massage skills to benefit yourself, family and friends. If you are already a practitioner or student it is also a great opportunity to go back to basics for CPD.
This one day workshop is full of practical learning that will give you new skills to enjoy with family and friends and is an ideal introduction for anyone who wishes to try Shiatsu before committing to a longer course.
A typical workshop might include:
Shiatsu to the back, shoulders and neck, hands and feet
A simple routine for facial shiatsu
First aid acupressure points for various symptoms
Simple exercises and techniques to develop your energy
Contraindications to treatment
For more information about this workshop please follow this link: Shiatsu Basic Skills workshop